Minecraft players often look for Minecraft house ideas. Building houses is part of the fun in Minecraft. The game allows players to build houses with friends.
Minecraft has a very supporting and interactive community. The game is fun to play; no wonder it has made $415 million in 2020. The game attracts millions because of its community-building qualities.
Some players like the Minecraft building games better than the survival games. Building something with friends is very interesting for some of the players. There are many easy Minecraft house ideas that you can use to build your Minecraft house.
But you may keep looking at many of such ideas without ever finding out the cool Minecraft house idea that fits your taste. So, I decided to help you with the best house ideas for the Minecraft game. Here, I have provided twenty such ideas that you can look at.
1. Simple Wooden House
Let's start with the most simple wooden house. In Minecraft, you can build wooden houses that are spacious and look simple and decent. The house uses wood logs and door panels to give you the impression of a forest hut. It is a fresh-looking contemporary wooden house that you can build in Minecraft. You can also make a furnace on minecraft to make the house look better.
There are natural lights inside that enter through the glass window panes. The exterior of the house has some lamps. You can also add some decorations to the building by adding the vines hanging by the balcony. This house looks very habitable and peaceful. The green vines added to the brown wooden hose create a simple beauty that you may fall in love with.
2. Modern Cliff House
This is probably the easiest way of making a house in Minecraft. The concrete blacks are pretty easy to use for making mine craft houses. You can make modern houses in Minecraft if you use the white blocks.
You can make this fun and peaceful house in the Minecraft survival game. The white modern cliff house looks amazing from upwards. If you want, you could also add a pool.
3. Aquarium House
Now, if you want to get super creative with your mine craft house ideas, you can always build aquarium houses in Minecraft. No, it's not going overboard. You can give your most creative ideas home in Minecraft. The aquarium Minecraft house looks as beautiful as it sounds.
You can make a house with a two-floor aquarium filled with water, fish, seaweeds. It is a two-story house with black and white blocks. The staircase looks incredibly beautiful. There is also a beautiful garden with lush green vines and plants.
4. Boat House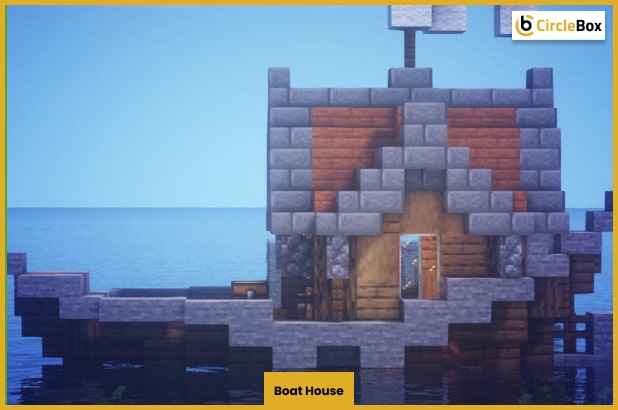 Now, you can come up with the most exotic idea of setting up a house on the water. You can make a functional boat, which looks fantastic as a house. Although the house is quite small, it still looks pretty. If you are looking for small Minecraft house ideas, you can make the boathouse. You don't have to spend hours building the foundation. The interior is small and only has a few things like the furnace and a crafting table.
5. Underground Minecraft House Idea
If you love to dig, you must try out an underground Minecraft house. The house is also interesting if you are looking for Minecraft survival house ideas. It is an underground house, and you can build your house with a beautiful interior that pays attention to every aspect of survival needs.
You can place a glass pane for the sunlight to pierce through. You will also have a clear view of the mobs spawning at night. There are four entrances in the blueprint, but you can leave one or two open.
Read Also: How To Tame A Fox In Minecraft: Best Minecraft Guide
6. Desert House
You can build a temple-like house in the middle of the desert in Minecraft. It looks striking and appealing in the desert background.
You can create a bold contradiction using pristine slabs and walls. The visual contrast created by the bright blue color and the white desert looks spectacular. You can use some bricks, iron bars, sandstones, acacia planks to make the exterior look pretty.
7. Treehouse
If not in real life, you can make your dream a reality in the Minecraft game by building a treehouse. You can avoid the attack of the creepers by setting up your house above the grounds. With a treehouse, you will have the chance of saving all of your hard work.
You can blend your house in with the biome well by choosing a wooden material for building. Of course, you will see many traditional houses. However, if you want to stand out, you can always build a fantastic treehouse.
8. Modern Villa House
You can make an aesthetic house that shows off its luxurious side through all the chandeliers, a bamboo garden, and an outdoor kitchen. You can make others feel awe-stricken with this house. The house looks sleek and smart with white colors and contrastive black. A lake also surrounds the house, adding extra beauty to the whole scenario.
9. Beach House
More than one Minecraft house idea looks as beautiful as it sounds once you use it. The beach house on Minecraft gives you a soothing effect once you build it. Aside from the treehouse and aquarium house idea, it is another house in the back of many players' minds. Once you install some good mods, you can enjoy the view of the Minecraft seas.
10. Two Player House
Another amazing Minecraft house idea includes the two-player house. Minecraft is even more fun when you play it with your friend. The two-player Minecraft house idea includes a nether portal in the middle for both players to have the easiest access.
If you like adventures more than settling down and want a simple Minecraft house, you can check this idea out. Building this house is fun and quick since there will be two players.
Conclusion
Minecraft is an unlimited game that brings your building potential out in its quality of building and adventures. The Minecraft game will give you just the kind of kick you want if you love to build. These Minecraft house ideas are some of the handpicked ones. If you are looking for the best shortlist for a minimum of ten Minecraft house ideas, this article will help you.
Raed Also: